Live Demo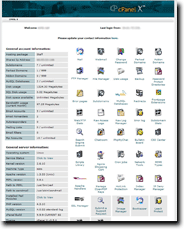 Login to our live demo account. See for yourself why DCS Hosting and Email is right for YOU!

DiVito Computing Services - Consulting Services
DCS offers a wide range of consulting services for your home of office. We are listing here only a smal number of survices that we provide. If it invloves a computer, we'll help! For specific pricing information, please Request A Quote online
Web Site Design

One of the main services that DCS provides is that of Web site design. Our company focuses on providing web sites to small businesses and non-profit organizations. We have an excellent reputation in the business and are happy to provide a portfolio of designs and references on request.




Most of our clients choose to purchase a Content Management System, giving them the flexibility to edit the site from and internet connected computer or mobile device. Our CMS packages include both a design that integrates with your current marketing plan, but also provides on-site and off-site training options for staff and administrators. We know that the web site is only as good as the people that know how to update its content. That's why we are dedicated to providing solutions that are customized to fit your organization's needs.




E-commerce site consulting

Want to sell something online? Don't know how to start? Then DCS is the company for you! Our trained E-commerce specialists will walk you through the entire process of designing and maintaining an online business portal. Depending on your needs, we can help design and program sites that work with Paypal or your own merchant account, to give you access to your transactions quickly and securely.

Useability Consulting Services

Do you have a website already that is hard to use? Do you get complaints from your customers about how confusing your site it? If so, DCS can help! Our designers have years of experience in web site usability and would be happy to work with you on making suggestions to improve your site, or work on programming a new site that your customers will be more easily able to use.

Data Recovery

If your computer's hard drive is dieing and you have important data that is not backed up, DCS can help! We can remove your computer's hard drive and connect it directly to another computer to attempt to remove important files and documents. If the hard drive needs to be replaced, DCS will install a new hard drive and help restore your computer to the factory default settings.